Custom Fence In Orlando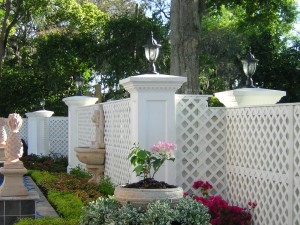 Building a custom wood fence in Orlando is truly an art form.  At Custom Fence Orlando and Paramount Fencing, our design team possesses both the imagination and the knowledge necessary to create long lasting custom fence solutions.    The main reason is our dedication to research and development through a scientific approach.  For example, all new custom fence designs are built, tested, torn apart and examined prior to suggesting them to the Central Florida and Orlando market.  Simply put, we are a highly trusted resource.
Yes, we understand it's easy for any company to call themselves custom, but custom is more than arching a prefab wood panel or taking a standard style an adding something to it.  It is a statement. A statement that matches both the homeowner and the architecture of the Orlando home .  At the end of the day, custom fence is simply about creating something that belongs.  It is a back drop and should not dominate the whole.  Instead, custom fence should compliment the home and landscaping.  It should be balanced.  It should be as if it was always meant.
Understand, it takes a special type of company to accomplish the above, one who cares. It takes passion and patients.  It takes planning, coordination, and allot of discussion.  It cannot be accomplished in one quick meeting by a sales person. So if you need a custom fence in Orlando or Winter Park or Windermere, we are hear to help design that perfect fence.  We are hear to help navigate and avoided the common mistakes.  
See the most common custom wood fence designs used in Orlando.
Horizontal Wood Fence Crazy In Orlando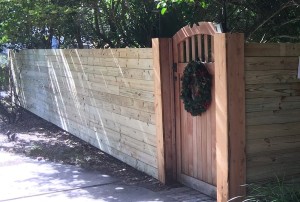 Horizontal wood fence in Orlando is becoming popular, but be forewarned. Use the wrong type of wood, wrong fasteners, or wrong thickness of material and you will have a disaster within three to five years. Boards will pop off at the seams and split and crack.  When considering a custom horizontal wood fence four your Orlando home, here are four important principles to follow:
Principle One:  Use the right type of material matters.   Ideally horizontal fence should be built from cedar.  The main reason is cedar is less prone to experience issues caused by the Florida climate.  It's expansion and contraction do to moister is minimal.  As a result, issue such as warping splitting, and cracking will me minimized--which will insure aesthetic longevity.   If pine is selected to create a horizontal look, make sure the lumber is #2 prime and treated with Eco-Life, not MCO.
Principle Two:  The thickness of material and method of construction makes all the difference.  Never use a board profile less than two inches thick for horizontal slats and all horizontal rows should be staggered.  Next, keep all post spacing no greater then six foot on center and in some cases four foot on center is a must.  Most importantly, use the right leverage to height post ratio: Height multiplied divided by two.  
Principle Three:  Use the right fasteners. Stainless steel, stainless steel, stainless steel.  The use of galvanize anything will quickly rust.  Continue reading more at Custom Wood Fence Orlando.
Principle Four:  Pick the right custom fence company to complete that custom fence. Never select a Florida or Orlando fence company that has the words outlet or discount attached it's name. 
Choosing The Right Custom Fence Company.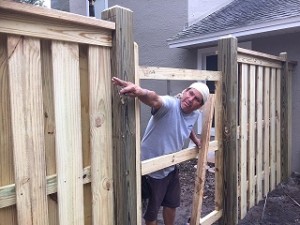 A Orlando custom fence company is a custom fence company, right?  Nope.  If you are considering a custom aluminum, vinyl, or wood  fence your you will soon discover how confusing selecting an Orlando custom fence company has become. 
Complicating the already complicated, new fence companies and products are popping-up monthly as the economy rebounds.  Each new company brings their own standards, opinions, and their own methods and marketing strategies.  As a result, it can be difficult to separate fact from fiction, fiction from fact.  As a result, truthful and accurate answers will only be found through research.  At Custom Fence Orlando and Paramount Fencing, we are  here help you navigate  that  maze. 
Understand, a custom fence  is an investment.  It should be handle as such.  The custom fence company handling that investment should be well vetted. As the old saying goes, "Trust but verify."  Below are two simple steps that will save time and aggravation:
Step One:  Know who your dealing with.   Understand in the State of Florida a fence company is required to have a local municipality license in which they operated.  Companies can be verified by contacting the county or city government in which you live.  Next, any business is required to be registered with the state: Factious Name,  doing business as, or incorporated.  Regardless, the fence company be easy verified visiting sunbiz.org. 
Step Two:  Know their reputation.   Don't be afraid to contact the BBB or a referral site such as Angieslist.com or simply do a google search with the companies name followed by the word "complaint."  Companies with bad reputation pay big money for Search Engine Optimization Companies to  bury result, so make sure you check the second and third pages.  
Yes. Yes! Yes!!  If you want to build a fence or custom fence within the City limits of Orlando,  that fence must be permitted.   Yes. Permitted.  Yes. Approved by the powers to be…Don't let anyone or custom fence company in Orlando convince…
Read more
When Considering a Custom Fence For Your Orlando Home. It is very easy to drive through Orlando's and see fence that makes you say,  " Wow, that's really a cool looking custom fence."  Next thing you know, you find yourselves standing in your backyard, ideas flying,…
Read more